St. Gallen - Hotel Spisertor Switzerland
Welcome to St. Gallen
The name and origins of St Gallen go back to the monk Gallus around 612 AD. A short walk through the magical Old town, with its picturesque back streets, world famous oriels, lively squares, friendly street cafes and striking architecture will take you back to the atmosphere of these distant times.
At the heart of the city rises the impressive baroque Cathedral included in UNESCO's list of world cultural treasures in 1983. Against this historical background St Gallen is a modern international city, an economic and cultural metropolis in eastern Switzerland.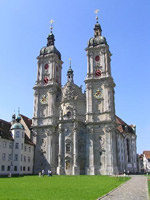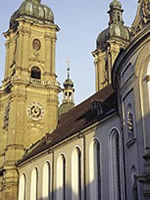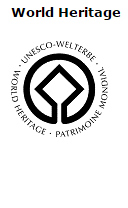 ​
5 good reasons to visit St. Gallen
Historical Old Town with famous cathedral and Foundation Library (UNESCO World Cultural Heritage)
2. Fascinating location in the region where Switzerland, Germany, Austria and the Principality of Liechtenstein touch. An ideal starting point for trips to Appenzell with the Säntis Peak and Lake Constance.
3. Rich cultural agenda with the well-known "Drei-Sparten" Theatre, musicals, small groups and cultural events such as the St.Gallen Open-air Festival or the Open-air Music Theatre Festival.
4. Home town of the famous Mummenschanz Theatre company, the Pic Clowns, the sculptor Josef-Felix Müller and of Roman Signer.
5. Attractive trade fairs such as the OLMA (Swiss Agricultural and Dairy Fair) and the Swiss Games Fair
St. Gallen and the alps

The position of St. Gallen between Lake Constanze and the alps is extraordinary. On the picture you see St. Gallen on the left side and in the background the Säntis.